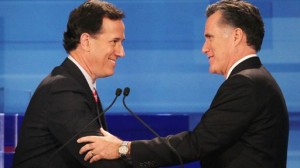 Eight votes. That's all that separated Mitt Romney and Rick Santorum once the Iowa caucuses ended. Technically, Romney was the winner, but one has to excuse Santorum for feeling as if he took the prize. Two weeks ago, no one saw this in the making; one week ago, though polls showed a Santorum surge, few could have guessed it would turn out this way.
Even the speeches given by both at the end of a long night marked the contrast: Santorum's was, as many have commented, inspiring and from the heart, while Romney's was a rehash of campaign rhetoric. Another factor that impressed me was the way Santorum identified with blue-collar workers because that was his family's background. The story of his grandfather was Reaganesque, and while nearly every candidate has taken it upon himself or herself to embrace the Reagan mantle, Santorum has come closest to the actual spirit of the 40th president. One of the keys to Reagan's success was his ability to relate to the so-called "common man." If Santorum can do the same, he may continue to surprise.
What does this mean for him going forward? The climb to the nomination will be steep regardless of the Iowa infusion of adrenaline. New Hampshire, the first primary state, is Romney territory. Can Santorum build on his momentum and carve out a niche there large enough to keep the buzz alive? It's then on to South Carolina, whose primary voters are more like Iowa's than New Hampshire's. Can he pull out a clear-cut victory in the Palmetto State?
One positive factor for him is the withdrawal of Michele Bachmann from the race. The most conservative candidates—Santorum, Bachmann, and Perry—have split the conservative vote. Now that she is no longer on the ballot, that could help Santorum. Although her numbers were not high in either New Hampshire or South Carolina, even a few more percentage points could make the difference. If Santorum had Bachmann's 5% in Iowa, he would have run away with the top spot.
It looked like Perry was going to drop out as well, only to surprise even his own team by deciding to move on to South Carolina. That's too bad. I like Perry, but he has no real chance at getting the nomination. His only contribution now will be to draw votes from Santorum, thereby giving Romney a greater opportunity to stay at the top.
The case with Gingrich is somewhat more complex. He is angry, and that anger is directed at Romney. He already has a full-page ad running in New Hampshire newspapers contrasting his conservatism with Romney's moderate stance. He's fighting back. That could re-energize his campaign, which might lower Romney's numbers, yet it also could detract from Santorum's, thereby creating a wash and maintaining the status quo.
Ron Paul, meanwhile, by coming in third, will put the best face on the result, but has to be disappointed. So many of the polls had him number one; perhaps his foreign policy views finally caught up with him. As I've said before, I wouldn't feel safe with Paul as commander-in-chief. He doesn't really grasp the dangers we face from radical Islam. Let's be honest: he's more of a libertarian than a Republican. Iowa was his best shot; it will be downhill from this point for him. It's time to pack it in and reject calls for a third-party candidacy that can only end in the reelection of Obama.
No matter what happens in New Hampshire, the race will not be decided there. Neither do I think South Carolina will serve that purpose. As a Floridian, I'm glad I will be able to participate in a primary with significance later this month. The media may want to call this for Romney at every point along the way, but that will be premature. Keep watching for surprises. I have this feeling there are more in the offing.