Today I speak at the Lakeland Republican Club. I've been asked to evaluate the Republican contenders for the presidency, discussing their strengths and weaknesses. The results of last night's Iowa caucuses will figure prominently in that evaluation. However, I'm going to wait until tomorrow's posting to discuss those results more thoroughly here—it's good to allow a day to think it through rather than just attempt a quickie analysis.
In the meantime, let's catch up on some of those key moments during my hiatus that haven't received appropriate attention. I've commented a few times on Eric Holder, who, incredibly, remains in his post as attorney general. He seems to have found a theme: when caught in lies during the Fast and Furious investigation, and in his decision to challenge South Carolina's voter ID law, he has aided the Obama administration's drive to create unity in the nation:
Of course, dividing people into groups and claiming bias is a strange way to create unity, but who are we to criticize the approach? To do so would probably be racist, right?
Then there was the death of Kim Jong-Il in North Korea, who will now be succeeded by his twenty-something son. What can we expect from this transition?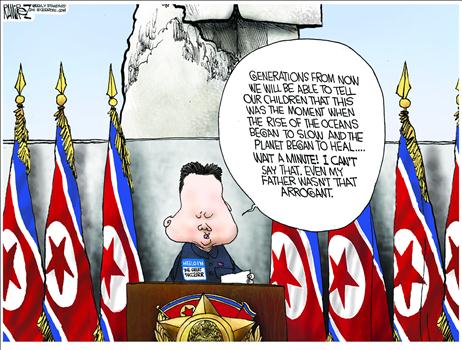 I do remember someone who did say that, though. He also had a moment in a 60 Minutes interview where he placed himself in fourth place in the Hall of Fame for Presidents. Cartoonists have been having a good time with that: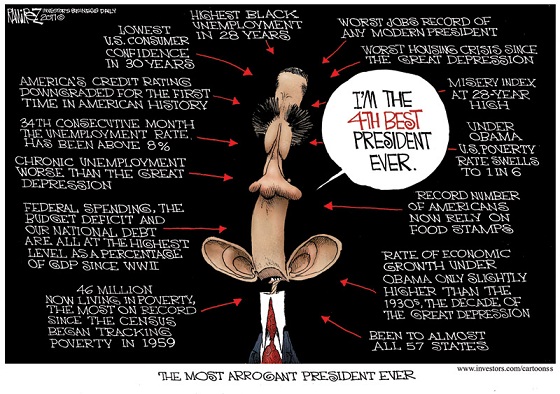 What a remarkable record of achievement. Who could ever equal it? All we need is four more years of this and we can challenge Greece for top spot in the nation-wrecking race.