I know you're Christmas shopping, so please indulge a little shameless self-promotion. Actually, I'm promoting ideas, not myself; it just happens that I wrote down the ideas, that's all. May I interest you in a few books?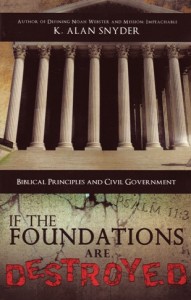 If you know someone who needs to think through how Biblical principles apply to civil government, you might consider sending them If the Foundations Are Destroyed. In it, I outline seven basic principles through which we can gain perspective on basic truths God has established. The applications are both personal and governmental. Each chapter begins with a Scriptural overview of a principle, followed by how that principle has been obeyed or ignored in history, with the resultant consequences. I don't claim this is the final word on what those principles are, but I do believe it's a good introduction to thinking Biblically.
If you're more oriented toward a biography, particularly of a man who made a significant impact on early America, you might want to check out Defining Noah Webster: A Spiritual Biography. Webster earned the title of Schoolmaster to America for his famous speller, his other various textbooks, and his monumental dictionary. Key to understanding Webster is the conversion he experienced at age fifty. From that point on, everything he wrote exhibited his solid Christian faith. Even his dictionary was an instrument for advancing knowledge of God and His ways. For those of you who are involved in homeschooling, I'll just mention that Michael Farris, founder of the Home School Legal Defense Association and Patrick Henry College, wrote the foreword to the book.
Finally, there's Mission: Impeachable—The House Managers and the Historic Impeachment of President Clinton. Written in 2001, and a main selection in the Conservative Book Club that year, this book is the only one on the market that gives the House Managers a chance to tell their story. Why did they feel it was so important to continue to push for the removal of this man from the presidency in spite of public opinion polls that told them they should desist? What principles guided them in their quest for justice? I interviewed all thirteen of the House Managers and incorporated those interviews into the text. Each chapter focuses on a manager, providing personal background, contributions to the impeachment process, and an analysis of each one's significance to this historic event. I'm grateful to Dr. Marvin Olasky, editor-in-chief of World magazine, for writing the foreword for Mission: Impeachable. This book is out of print, but used copies are available online, in good shape, for a very low price.
For more detail on each book, you can click on "My Books" at the top of this page. For ordering, I recommend the Barnes and Noble website, since Amazon has some confusion about the different editions.
I have another one in the works for which I just signed a contract with a publisher. It should be out by mid-2012. The title is The Witness and the President: Whittaker Chambers, Ronald Reagan, and the Future of Freedom. I've labored over this book for a number of years now; it comes from the heart. I'll certainly let you know when it's available.
Merry Christmas shopping. Hope I helped.