I haven't said much about foreign affairs lately, so let's catch up a bit. The really big news, of course, is the death of Qaddafi in Libya. Some are touting it as a major step forward for "democracy." While I'm glad the delusional tyrant is gone, don't count me among those who believe the future is rosy in that part of the world: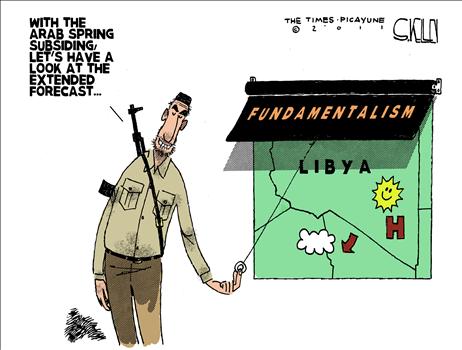 Change is not always synonymous with progress.
Speaking of change, that would be nice for Venezuela. Yet it appears Hugo Chavez is hanging on, to the detriment of the country he rules: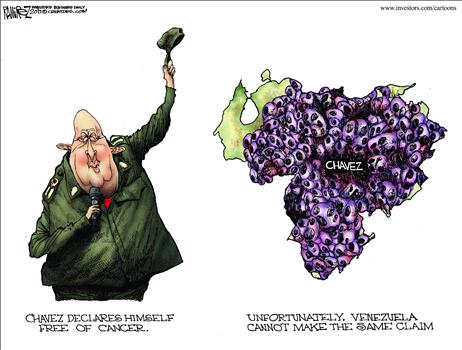 And then there's Iraq. President Obama has declared our mission complete by the end of this year, and most troops will be removed. While I am always glad to keep our soldiers out of harm's way, this is a bittersweet withdrawal: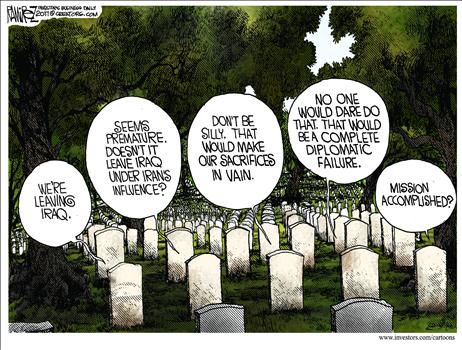 I realize we can't stay forever, and that Iraq must stand on its own, but will this now be a vacuum that Iran will fill? How can that be a better scenario? No easy answers in the Middle East, but it would be tragic if Iran now becomes the neighborhood bully. What's Obama's plan about that? Or is this primarily a campaign strategy? Forgive me if my cynicism is showing.