It's been a while since I've said anything about the events in Libya, but a lot has transpired in the past week or so. It's probably not a subject that interests a majority of our citizens; Libya seems so far away and disconnected from life here. Yet we may be seeing a change similar to what is taking place in Egypt, which can have serious ramifications.
There are still those who tout the so-called "Arab Spring" as a testimony of the desire for freedom. Look at Egypt. What we witness instead is a rise of the Muslim Brotherhood and a turn against Israel. I wasn't the only one who warned against this back when the protests began. Take off the fantasy glasses and glimpse the reality of that situation. The same applies to Libya.
Who is really going to be in charge there? It's one thing to get rid of a maniacal dictator; it's something else entirely to set up a working government. What practice do these rebels have in constructing governments?
It reminds me of President William McKinley's reasoning when, in 1898, he had to decide whether to take responsibility for the Philippines after the Spanish-American War. His prime consideration was that the people had never governed themselves before, but had been under the thumb of an autocratic Spanish regime for centuries. How then could they be expected to manage on their own? They first had to learn how to govern. A guerrilla war broke out against American control, but eventually died down due to the benign oversight provided by American governors, particularly William Howard Taft. If the guerrillas had taken over, there would have been a repeat of Spanish rule in the sense that a few at the top would have been making all the decisions. It undoubtedly would have devolved into a tyranny. Under American auspices, the Philippines became the first Asian nation to elect its own congress, and finally achieved independence.
Libya is in the same straits. The people have never governed themselves. The most likely outcome will be either an Islamist sect crushing all opposition, or the ascendance of some other tyranny. There will be a bloodbath as they fight for supremacy.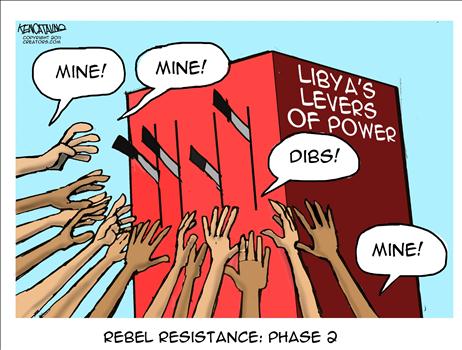 Don't expect stability anytime soon.
Meanwhile, what has become of Qaddafi [or however you spell it]?
In one way, this is comedy; yet I fear it will be mixed with tragedy.