The opportunity to celebrate our nation's heritage and independence provided a welcome relief from politics-as-usual, but those opportunities don't last long enough. Leading up to Independence Day, we were treated to a number of political moves by President Obama as he seeks reelection. Remember his press conference where he chided Republicans in Congress for not getting to work while he was always busy with the nation's business? He then left for another of his numerous vacations and a new round of fundraisers. It's always nice to see such dedication.
The president did make a number of decisions in the past few weeks, one of which was to begin withdrawing troops from Afghanistan. Interestingly, his withdrawal timetable has them all out just two months prior to the 2012 elections. What a coincidence.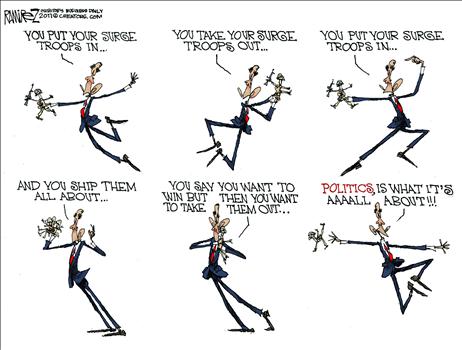 He also tackled the high gasoline prices by releasing oil from the nation's strategic reserves. Wait a minute . . . isn't that oil supposed to be kept there for national emergencies? What could have possibly led him to tap into it, thereby reducing the amount available should an emergency occur?
Cartoonists have had a field day with this one:
It's a good thing we have the mainstream media keeping the public informed about these vital issues and holding the president accountable for his actions:
It's nice to know they're out there doing their job.