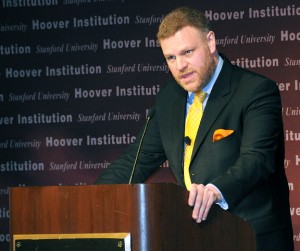 How about a little more commentary on Western blindness today? On this subject, I always like to allow experts to speak. Mark Steyn, in America Alone, provides enough ammunition to carry the day. As many of you know, I've been chronicling Steyn's book over the last few weeks. We're now up to chapter eight, "The State of the Art Primitive: The Known Unknowns vs. the Knowingly Unknowing." If that title puzzles you a little, let me—or rather Steyn—shed some light.
Steyn quotes Edward Said, "the New York-based America disparager and author of the bestselling Orientalism," as deploring what he calls "the tendency of commentators to separate cultures into … 'sealed-off entities,' when in reality Western Civilization and the Muslim world are so 'intertwined' that it was impossible to 'draw the line' between them." In other words, Westerners have this bad habit of saying there is a clear distinction between the cultures when none really exists.
Steyn responds,
Rich Lowry, the editor of National Review, wasn't impressed by this notion. "The line seems pretty clear," he said. "Developing mass commercial aviation and soaring skyscrapers was the West's idea; slashing the throats of stewardesses and flying planes into the skyscrapers was radical Islam's idea."
We are neglecting one startling fact: they hate us.
Take the example of the strife between Israel and the Palestinians:
For one side, there is no common humanity, even with people they know well, who provide them with jobs, and much else: Wafa Samir Ibrahim al-Biss, a twenty-one-year-old woman who has received kind and exemplary treatment at an Israeli hospital in Beersheba, packs herself with explosives and sets off to blow apart that hospital and the doctors and nurses who've treated her.
We in the West are always looking for the "root causes" of the outrage in the Islamic world. Steyn says there are no root causes to seek, or at least not in the ordinary sense. He notes,
Five days before the slaughter in Bali in 2005, nine Islamists were arrested in Paris for reportedly plotting to attack the Metro. Must be all those French troops in Iraq, right? So much for the sterling efforts of President Chirac and his prime minister, the two chief obstructionists to Bush-Blair-neocon-Zionist warmongering since 2001.
The French continually criticized the United States after 9/11, "yet the jihadists still blew up a French oil tanker. If you were to pick only one Western nation not to blow up the oil tankers of, the French would surely be it." When asked later, the spokesman for the radical jihadists explained, "'We would have preferred to hit a U.S. frigate, but no problem because they are all infidels.'"
Now we get down to what might be considered the root cause of all root causes, one that escapes the Western illuminati: they attack us because we are not them. Steyn continues,
When people make certain statements and their acts conform to those statements I tend to take them at their word. As Hussein Massawi, former leader of Hezbollah, neatly put it, "We are not fighting so that you will offer us something. We are fighting to eliminate you." The first choice of Islamists is to kill Americans and Jews, or best of all an American Jew like Daniel Pearl, the late Wall Street Journal reporter. Failing that, they're happy to kill Australians, Britons, Canadians, Swedes, Germans, as they did in Bali. No problem. We are all infidels. You can be a hippy-dippy hey-man-I-love-everybody Dutch stoner hanging out in a bar in Bali, and they'll blow you up with as much enthusiasm as if you were Dick Cheney.
The Soviet Union and other totalitarian states at least played a game of pretending they weren't what they were—they would refer to themselves as "People's Republics," which was a way to try to paper over their true nature. Radical Islamists don't bother to pretend.
They say what they mean and they mean what they say—and we choose to stay in ignorance. Blow up the London Underground during a G-8 summit and the world's leaders twitter about how "tragic" and "ironic" it is that this should have happened just as they're taking steps to deal with the issues—as though the terrorists are upset about poverty in Africa and global warming. Even in a great blinding flash of clarity, we can't wait to switch the lights off and go back to fumbling around on the darkling plain.
We continue to pretend that we are all the same, and that we can work together, even when the "other side" clearly states its goals. We wait around for cooperation and wonder why it's not forthcoming.
We are blind because we have a foundation of spiritual blindness, and spiritual blindness begets all other types of blindness. The radicals condemn the West because it is "Christian civilization." If only that were the case.