The Republican House passed a continuing resolution that will keep the government operating one more week and fund the military for the rest of the year, to ensure that those in harm's way are not treated like dirt. The Democrat Senate, however, refuses to follow suit. If there is a shutdown, just who is to blame here? If logic applies at all, most citizens ought to be disgusted with the Democrat leadership.
While Republicans are attempting to deal responsibly with the budget issue, Democrats are once again playing politics—the same accusation President Obama launched against the Republicans. Harry Reid's heroic effort to save the Cowboy Poetry funding appears to have impeded progress:
As Republicans work to put out the fiscal fire, their actions are being interpreted differently:
I'm still trying to figure out just what the Democratic plan for taking care of the national debt might be. Since they have offered no real plan, what is their fallback position?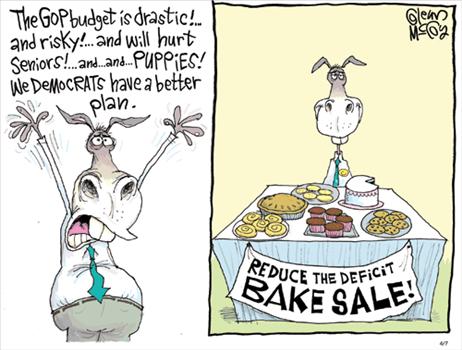 This current budget battle is for this fiscal year only. As I noted in yesterday's post, the only reason this is still an issue is that the Democrat-controlled Congress refused to pass a budget by last October. Once we finally get this behind us, the next budget battle will begin. Rep. Paul Ryan, Republican from Wisconsin, has drafted a detailed plan to tackle the deficit over the next decade. It even enters the field of entitlements, showing the way to rework the entire Medicare and Medicaid systems. He has something that a lot of politicians lack:
The only question now is whether he and his Republican supporters will get a fair hearing for this plan. The House certainly will consider it seriously, and make any amendments it deems necessary, but will the Senate, under Harry Reid, even bother to look at it? It's not difficult to predict its future in that body. Hopefully, down the road, after the next election has tossed Sen. Reid from his exalted position, we can move forward. It's a shame, though, that we'll have to wait that long.