It's not really my intention to turn each Saturday into a cartoon-fest, but if you consider that bothersome, you can always go somewhere else on the Net—there's a whole world that awaits.
But for those of you who choose to stay with me today, here's my tribute to really well done political analysis via illustration. Let's focus today on the many wonderful policies emanating from this administration and their consequences.
Obamacare, of course, has been the highlight of the past year. Have you read that there are now more than 1000 waivers that have been granted? If you need that many waivers, is it at all conceivable that the legislation is pretty awful to being with?
Energy policy has been gearing up lately. Obama is a strong proponent of green technology. Where will that lead?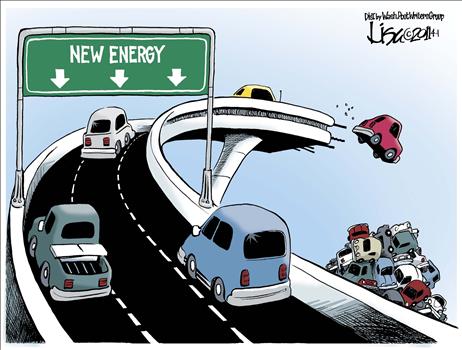 If you don't mind, I'd rather not go there. Of course, we can always do nuclear power, but everyone seems to be afraid of it after the Japan earthquake:
It would be nice to get our "fear priorities" straight. Continuing with the nuclear theme:
Why, we can't cut programs, we're told—they are all so effective. In what dream world might that be?
Even NPR is sacrosanct:
If you're not sure what's good for you, your friendly neighborhood progressive will be only too happy to inform you.
Enjoy your Saturday.