The media has trained its lenses on turmoil in the Middle East and turmoil in Wisconsin. Nearly forgotten in this fascination with all things Qaddafi and public-sector-unions is the fact that the federal government has some tough decisions ahead.
Remember that $3 trillion-plus budget the president presented not long ago? Is that really the beginning of what he terms an "adult conversation"?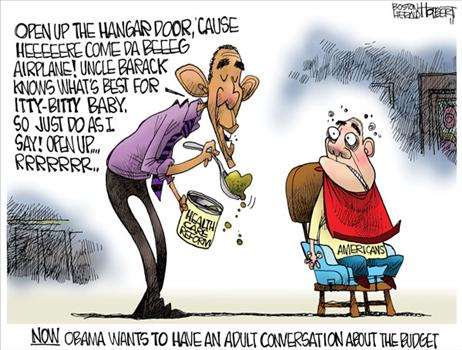 How about starting with a proposal that is truly adult first? Of course, there are some people who don't mind this budget, and who actually see it as a excellent step in the right direction:
Republicans are calling for deep cuts in discretionary spending, and are seeking Democrat allies:
Let's just say they haven't been easy to find—and that's on discretionary spending. What will it be like when they tackle entitlements such as Social Security and Medicare?
It's going to take a lot of backbone on the part of Republicans to make a dent in this:
An allied problem is whether the American electorate will overcome its divided thinking:
It's not the politicians only who have to develop nerves of steel. They are going to need help from those who put them in their positions. As Margaret Thatcher told the first President Bush as he debated his actions in the Persian Gulf War, "Remember, George, this is no time to go wobbly." The same advice needs to be forcefully presented to the American electorate.