As almost anyone who pays any attention to politics probably knows by now, the lawsuit against Obamacare by twenty-six states received a favorable ruling yesterday. Federal District Court Judge Roger Vinson concluded that the law was a violation of the Constitution since it mandated that people buy health insurance.
Vinson went further than the Virginia judge who ruled against the law a number of weeks ago. Instead of declaring that only one part of the law was unconstitutional, he noted that you cannot sever that one part from the whole: since that one part was so foundational to the statute, the entire law is unconstitutional. That makes eminent sense.
Already the law's backers are challenging the ruling. The Obama administration calls the decision "judicial activism." How ironic. Obama stretches constitutional provisions beyond recognition, while Judge Vinson calls us back to original intent, and Vinson is the activist? There's an academic term for that: baloney.
While this is an important milestone in the drive to overturn Obamacare, it isn't the last word. It will be appealed through the system until it arrives on the steps of the Supreme Court, and there's still no telling how the Court will rule.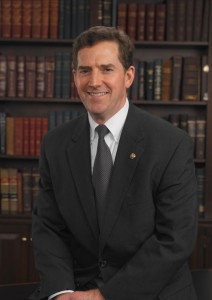 Meanwhile, Sen. Jim DeMint has prepared an Obamacare repeal bill for the Senate, following on the House's vote for repeal earlier. At last report, DeMint had all forty-seven Republican senators on board. That's almost unheard of, considering who some of those senators are. All it will take is for four Democrats to come over to the Republicans' side and this could be sent to the president's desk. Yes, it will be vetoed if that occurs, but the sense of the entire Congress will be clear and Obama will be the lone obstruction. In a nation where more than 50% of the electorate (particularly among those who are most likely to vote) wants it repealed, he will suffer politically for his stubborn resistance to constitutional limitations.
Most of what Obama has proposed is unconstitutional; beyond that, none of it has ever worked for anyone else, so why believe it will work here?
There's a lot that needs to be reversed after the past two years. The Promised Land of restored constitutionalism is not yet in view, but one gets a feeling we're at least marching in the right direction.