He came out of nowhere to end up in second place in the 2008 Republican primaries. No one thought he was a serious candidate; after all, how could anyone with a name like Huckabee be taken seriously? Yet, if not for a close loss in South Carolina, he might have been the nominee.
Mike Huckabee certainly has executive experience, having served as governor of Arkansas for a decade. Of all the candidates running for president in 2008, Republican or Democrat, he was the one with the greatest track record for running a government.
There were some who attacked his record as governor. Specifically, the Club for Growth, a strong free market organization, slammed him for deviations from free enterprise, citing compromises he made with Democrats. Huckabee's response was that he was a Republican governor with a Democrat legislature, and that he was proud of his record of holding them in check. He also referred to that particular critic as the Club for Greed.
I commented in previous posts that I believe the accusations against him on that score were over the top. The Club practically had him as a close buddy with Karl Marx. Nothing could be further from the truth.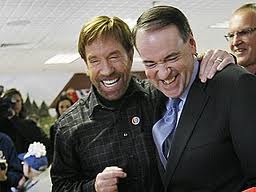 Huckabee exhibited a flair for words during the campaign, coupled with a refreshing sense of humor. He used his endorsement from Chuck Norris effectively, combining it with a touch of humor. Norris was on the campaign trail with him continuously.
After losing the nomination, Huckabee was a good soldier for McCain and other Republicans. Although he wanted to win, he didn't descend into bitterness or manifest any hint of being a sore loser.
Shortly after the 2008 election was over, he received an offer from Fox News for a weekend television program. Huckabee has been a mainstay on the network ever since. His guests have run the gamut politically—from the expected conservatives all the way to Bill Maher. He seems comfortable dealing with everyone, no matter where they are coming from philosophically. And if anyone really doubts his fidelity to economic conservatism, a few doses of his commentary on his show should wipe out those doubts. He has come out strongly against the bailouts, the stimulus, and Obamacare.
Of course, another key component of Huckabee's appeal for me is the fact that he is an outspoken evangelical. He even came to Lakeland, Florida, where I live, to speak on behalf of our local Woman's Choice center, which offers the Gospel and material help for those undergoing a crisis pregnancy.
Huckabee hasn't indicated that he is up for another run, yet the polls consistently show him as one of the top three contenders among Republicans. If he does decide to go for it again, evangelical voters may have a difficult choice to make between him and Palin. It would be far better if that vote remained undivided. Huckabee has a certain appeal, but can it overcome the vibrancy that seems to follow Palin wherever she goes? That question will be answered if he chooses to mount a challenge.