The high points in the past election for me center on the three states that I have called home throughout my life: Florida, Virginia, and Indiana. I've been a Floridian now for a little more than four years and am thrilled with Tuesday's results here.
The whole nation was watching the Florida Senate race, wondering if Marco Rubio could succeed in a divided field—divided because current governor Charlie Crist, running as an independent, was attempting to take Republican votes away from him. While that might have been Crist's original strategy, he had to shift over time to concentrate more on scraping together Democratic votes instead since most Republicans repudiated him and stayed loyal to Rubio. But hey, "shifting over time" is one of Crist's talents:
If this signals the end of Crist's political career, I will shed no tears. Rubio, meanwhile, is already perceived as a "rising star" in Republican circles. He needs to be careful and not let this go to his head. If he can remain as optimistic and as humble as he has been through this long campaign, his principled leadership can be a tremendous plus for the country. As long as he stays principled, he will continue to be effective.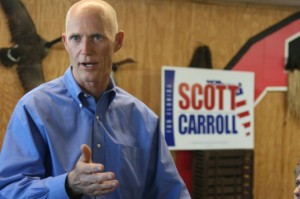 The Florida governor's race was extremely tight, but Republican Rick Scott pulled it out in the end. He had to overcome the challenge of a bitterly divided party after the primary. While some resentment remained, and he didn't get the same level of support as Rubio, enough healing took place for him to eke out the victory by about one percentage point. The size of the victory doesn't matter now, as long as he fulfills his promises. He wants to bring business expertise to the governor's role and create a Florida that is business friendly. If he can do what is in his heart, state government will be leaner and more effective, and the state's dismal unemployment figures will turn around. In my view, if anyone might be able to accomplish this, it will be Scott. His slogan for the campaign was "Let's Get to Work." Now he has his chance.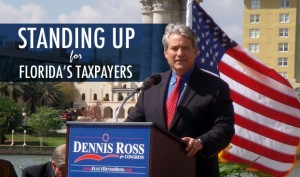 The Lakeland area also will be sending a man to Congress that it was an honor for me to support: Dennis Ross. I had lunch with him a few months ago just to get a feel for who he is. I came away convinced that his passion was for upholding the Constitution and maintaining integrity in government. It's not often you have the opportunity to rally behind a person who understands the Founders' concepts and who seeks to keep the federal government within its appointed boundaries. Dennis, I believe, is such a man. He not only will represent his district well, but by doing so, he will do what is best for the nation.
Honorable mention: Daniel Webster practically destroyed Alan Grayson, thereby kicking out of Congress one of the most obnoxious members ever to hold the office of representative. I will trade a radical, self-centered socialist for a Christian gentleman any day. Adieu, Mr. Grayson.  
On to Virginia, where my former state completed the transformation it began one year ago when it elected Bob McDonnell as its governor and Ken Cuccinelli as attorney general. This past Tuesday, three Democratic congressmen were given the door and replaced by conservatives who want to stand up to the Obama agenda.
Then there's Indiana, which duplicated Virginia's move by replacing a number of Democratic congressmen. In addition, it added a new old name to the Senate—Dan Coats. Coats had served previously in the Senate, then set aside politics for a number of years. He is a fine Christian gentleman who always served with integrity. New blood doesn't have to come only from those who have never served before. Experience is also a valuable commodity.
Florida, Virginia, Indiana—all states that went for Obama in 2008. Now they are all overwhelmingly "reddish" in color. What a difference a mere two years can make, particularly when the president tries to fundamentally change the nature of America. Based on his press conference the day after the election, I still don't think he grasps what really happened, and the part he personally played in this stunning defeat for his party:
If he stays the course and continues living in his fantasy world, 2012 could be just as devastating for him. If it is, I wonder if he'll notice?