Today, I would like to single out those running for office who are so unacceptable that they truly deserve to lose their races. Of course, if I tried to list everyone I thought should be included in that category, this would be an exceptionally long posting, so I've decided to concentrate only on those who have a chance to lose. Consequently, you won't find individuals such as Nancy Pelosi in this list; she is a mirror image of her district. However, if things go as I hope they do, she will lose as well—her post as Speaker of the House.
We can start, though, with her counterpart in the Senate, Majority Leader Harry Reid.
Reid used to be pro-life. At least that's what he claimed. As the premier pusher of the Obama agenda, he scuttled whatever small amount of credibility he had on that issue. He also famously declared the Iraq War lost—then came the surge, which he still refuses to recognize as having achieved a measure of stability in that country. Reid has shown himself to be insufferable in his constant comments—"only 36,000 people lost their jobs today, which is really good"—and the Rush Limbaugh name for him, "Dingy Harry," seems rather appropriate. Nevada needs to divest itself of this national embarrassment.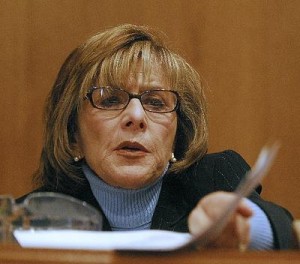 Barbara "don't call me ma'am" Boxer is trying for her fourth term as senator from California. She is about as prickly as they come, which led to that comment above to a military officer during a congressional hearing. She really loves being a senator and having the perks of the office. Boxer also secured travel for the radical group Code Pink to go to Fallujah, Iraq, in 2004 to give aid to the people who had killed 51 Americans that same month. Even the extremely liberal newspaper, The San Francisco Chronicle, refused to endorse her this year due to her undistinguished record. Her opponent, Carly Fiorina, a pro-life woman who has experience in the business world, would be a welcome relief to Californians who have had enough of Boxer.
Let's stay in California for the Retread of the Year Award. Yes, Jerry Brown is running for governor again. He already had that job back in the 1970s, following Ronald Reagan and ruining most of what Reagan had accomplished. He was known as Governor Moonbeam back then for his New Age philosophy. He hasn't changed much. When California voters rejected a referendum on homosexual marriage, Brown, who is currently the state's attorney general, made it clear he wasn't going to enforce that vote. A real attorney general cannot make a decision like that. Brown as governor would be a disaster—again.
How about a Republican? Well, perhaps a Republican. It's a little hard to tell right now. Her name is Lisa Murkowski, and she lost the Alaskan Republican senate primary to attorney Joe Miller. Only Murkowski refuses to believe it, so she's now spearheading a write-in campaign because … well, because she wants to stay a senator. She doesn't exactly have a solid set of philosophical beliefs that guide her besides wanting to be a senator. She's not pro-life, so she dilutes the Republican side of the aisle on that issue. How did she get to be a senator in the first place? Her dad, who resigned from the Senate to become governor of Alaska, appointed her to take his place. She really earned that job, didn't she? The main thing driving her now seems to be that she is a sore loser. May she remain one.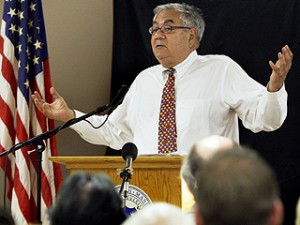 Then there's Massachusetts icon Barney Frank. He first hit the national radar many years ago as one of the first outspoken homosexual congressmen. Shortly afterward, the House ethics committee had to investigate accusations that a prostitution ring was operating out of his D.C. townhouse. Those accusations turned out to be true. Frank's response? Gosh, I had no idea that was happening! A mere slap on the wrist later, he remained in the Democratic leadership. He's been back in the news as one of the key proponents of forcing banks to give mortgages to people who couldn't afford them, thereby triggering the massive econonic crisis we're still experiencing. He also, along with Sen. Chris Dodd, has been the main supporter of Fannie Mae and Freddie Mac, blocking any real oversight of those corrupt lending institutions—which still march on uncorrected today as he helps derail any legislation that would hold them accountable for their actions. For the first time in his political career, he actually has a real race to run against a genuine opponent. Will Frank's many sins catch up to him this year? It's still a long shot, but it would be one of the most gratifying of all the races if he were to go down to defeat at last.
Let's go to my current state of Florida for the final two who deserve most to lose. How can I neglect to mention Congressman Alan Grayson, the most obnoxious man in Congress—and that's going up against some pretty stiff competition. I had an entire post on Grayson not long ago, so I won't try to repeat everything again. If you don't remember him, you can remember one of his most arresting moments when, on the floor of the House, he concluded that the Republican healthcare plan was for people to die quickly. May his tenure in Congress suffer the same fate.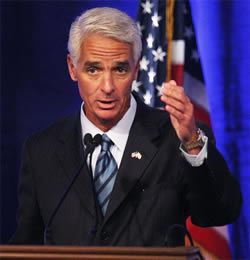 Last, but not in any way least, is the winner of the Chameleon of the Year Award, Florida Governor Charlie Crist. Forcefully declaring himself to be a Reagan conservative who was proud to be a Republican and who would never leave the party to run as an independent, Crist thought he had clear sailing into the open Senate seat. Then he ran into a buzzsaw named Marco Rubio. When it became painfully obvious to Crist that he couldn't win the primary, he cut his ties with the Republicans and ran as an independent. Over the past couple of months, he has changed his position on almost every issue as he attempts to get Democratic votes to go along with independents who are scared and not thinking clearly [thanks to President Obama for that brilliant insight]. Now he's trailing Rubio badly in the general election. This may be Crist's swan song; for the sake of all Floridians, and the nation at large, let's hope it is.
Well, that's my list of those who most deserve to lose. If they all do lose, America will be the winner.