Students at Southeastern University—not to mention faculty and staff—have had a unique opportunity these past two days. It's always tremendous when a university can bring in one prominent individual to speak, but it's not usual to have speakers who have so much to offer arrive on consecutive days.
As I mentioned in yesterday's post, former attorney general John Ashcroft gave an outstanding message in chapel for our Constitution Day commemoration, as well as a witty and wise question-and-answer session with students and guests from the community.
I was honored to spend some time with him both before and after the official events for the day, and I admit this is a picture I will be sure not to lose.
The day after Ashcroft left, Marco Rubio, who is running for the Senate seat from Florida, also stopped by to speak to the students and Republican leaders in the county.
I didn't get word that he was coming until late on Sunday. My biggest task was to somehow free up the room we needed to use for his appearance. We were able to shift around three classes to make the room available. That was my contribution; the College Republicans did the rest.
Rubio is an impressive candidate in person. He is earnest, devoted to constitutionalism and free enterprise, and thoroughly in love with the country that became a haven for his family when they fled Castro's Cuba.
His message centered on the need to change course dramatically in order to save the country from economic ruin. National media were present, as the whole nation seems to be following his Senate campaign. He began as a distinct underdog; few gave him a chance against Governor Charlie Crist. Now few are giving Crist any chance to win this election. The latest polls have Rubio's lead over Crist ranging from eleven to sixteen points.
As a professor of history with a deep commitment to helping students grasp sound principles of public policy, I welcome the enthusiasm I saw among the College Republicans at this Rubio visit.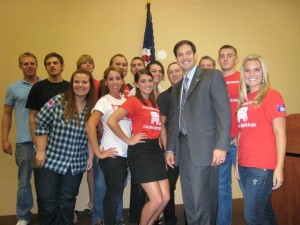 Students who took advantage of the opportunities to hear both Ashcroft and Rubio should have come away from the experience with a deeper appreciation for this country and its constitutional principles, and the foundational understanding that freedom is a gift from the hand of God.
All in all, two very significant days for Southeastern.