I've waited a while to comment on the Alaska Republican Senate primary. Virtually no one gave Joe Miller any chance of unseating incumbent Senator Lisa Murkowski. Yet the inconceivable actually occurred. The race was close, and the win was razor thin, but a win it was for Miller, who is much more conservative than Murkowski and allied with the Tea Party.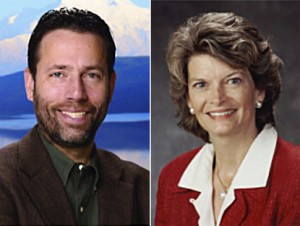 Sarah Palin, from the outset, gave her support to Miller. The Murkowski family has owned Alaska politics for some time; Palin is the one who defeated Frank Murkowski, the incumbent governor, in an earlier primary a few years ago. Could it be that the dynasty is dead?
Sen. Murkowski has been fueling rumors that she's not necessarily finished with this race. She is toying with two possible scenarios: one, as the candidate for the Libertarian Party; two, running as a write-in. Either possibility could spell defeat for Miller, if not victory for Murkowski. In other words, she is considering acting as the spoiler in the race.
For someone like me, who lives in Florida, this has a familiar ring: a Republican incumbent who assumed an easy victory turning to an independent bid for a seat. Is Murkowski trying to be the new Charlie Crist? Perhaps she should check on how that's working for him. The latest poll shows Crist ten points behind Marco Rubio, the Republican whose popularity drove Crist from the Senate race to begin with.
For some people, letting go of political power is unthinkable. It's as if they would have no real life without it. Actually, I feel sorry for that type of person. Life is more than politics, and if that is what gives you an identity, you are to be pitied.
I'm reminded of this poignant comment:
If anyone wishes to come after Me, he must deny himself, and take up his cross and follow Me. For whoever wishes to save his life will lose it, but whoever loses his life for My sake will find it. For what will it profit a man if he gains the whole world and forfeits his soul? Or what will he give in exchange for his soul?
Life is found in Jesus Christ, not in any glories or positions of authority we achieve in this world.