I wasn't able to attend the Restoring Honor Rally in D.C. last Saturday, but I know a couple of people who did. They were deeply impressed by what they experienced. The crowd easily exceeded expectations, with estimates running as low as 300,000 [how's that for a "low"?] up to more than 500,000. The central stage was the Lincoln Memorial.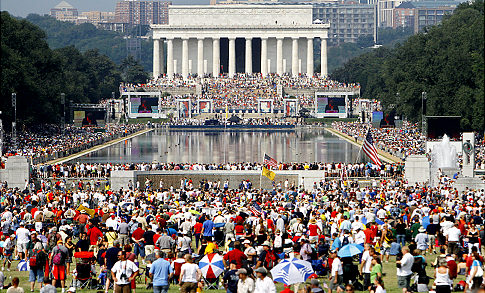 In this picture, you get only some idea of the size of the crowd. A bird's-eye view provides a better perspective:
That's the Lincoln Memorial in the distance. Up close is the WWII Memorial. The crowd filled the entire space between the two, and even went further back than this picture shows, all the way to the Washington Monument.
Impressive, to say the least.
What inspired people to make this journey? Well, there certainly were some attractions. For one, Sarah Palin was a key speaker, and undoubtedly a drawing card for many. She, and all the other speakers, set aside partisan politics for the day and spoke instead about honoring those who have served in the military, remembering another speech at this spot in 1963—"I Have a Dream" by Martin Luther King—and calling for a return to faith in God.
Of course, the main organizer for this rally, Glenn Beck, was on hand as well. His stated goal was to bring together people of all faiths for a common purpose, what he and others termed a spiritual revival.
This is where it gets controversial. Before going any further, let me say that I am in complete agreement that a spiritual revival is essential to bring this country back from the brink of an untold disaster. I understand Beck's desire and support him in that quest. The real question is whether there can be a genuine spiritual renewal if Jesus Christ is not central to it.
I have watched Beck's television program on a consistent basis. I applaud most of what I see. He has provided a valuable service in exposing the roots of progressivism, in upholding the authority of the Constitution and the rule of law, and in telling people that faith in God is the most significant factor for any restoration of the Founding principles. Building a coalition of groups who have that same vision is a good thing. Therefore, I do support the intent of the rally and I know that it was a force for good in the country.
The key, though, is whether this movement, as it goes forward, is going to be a Christian-based endeavor. Beck is a Mormon. I have some knowledge of Mormon theology, and it is decidedly not Christian. I know it is politically incorrect to say such a thing. I can never now run for office. That's okay—I never planned to do so. The Mormon concept of the nature of God and Jesus is not compatible with orthodox Christianity. The theology of salvation for Mormons is not the same as the Christian explanation.
Now, as I've listened to Beck, I've wondered just how much he really understands Mormonism because his words, at least as he explains his view of salvation, sound as orthodox as any Christian's. I can safely let God be the judge of his heart. However, a clear line does need to be drawn between what is definitively, uniquely Christian and that which is not.
In the political world, as I've noted, coalitions need to be formed. I can unite with Mormons, Jews, and anyone else who wants to see the same political result as I do. But a government is not the church. Salvation will never emanate from any government. The message of individual salvation remains in the Christian faith, which proclaims that Jesus is the only way, truth, and life.
I've read some critiques of the rally that have been rather censorious of it due to its mixed leadership—the attempt to meld all religious beliefs into one. I understand that. However, we should keep in mind that the movement, such as it is, does promote basic Biblical attitudes and principles, even if some in the movement are not personally Christian. Anything that nudges us closer to the truth is welcome.
When I teach about the American Founding, I make it clear that not everyone was a Christian at that time, yet nearly everyone operated on a consensus that was formed from the Biblical worldview. We could be seeing that same development today.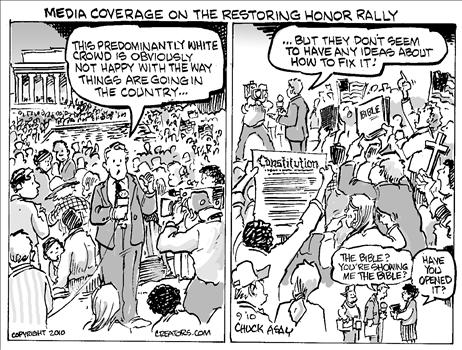 I think it is highly likely that the majority of those who attended the Restoring Honor Rally did so as proponents of the Biblical worldview. If the rank and file is made up of that type, there is hope for our future. We certainly could do worse than return to the status of the Founding, where even those who were not Christians still understood the world through the Christian prism.
Therefore, I urge my Christian brethren not to be too critical at this point. Let's see where this leads. God works through His people, but He also works through those who don't always realize He is doing so.