Sen. Lindsey Graham [of all people] has come forth to address the issue of the children of illegal immigrants becoming citizens. The way the law is currently understood—erroneously, I might add—any child born within the United States, to any immigrant, legal or illegal, is automatically a citizen of the United States. Some immigrants do come into the country as the due date approaches, give birth here, and then use the status of their child, a so-called "Anchor Baby," to remain here.
We are told this is the result of the passage of the Fourteenth Amendment to the Constitution. All amendments must be viewed in context and interpreted according to original intent. The Fourteenth Amendment was one of the post-Civil War amendments dealing with the ex-slaves. All that was intended by it was to ensure that no Southern state would take rights away from these ex-slaves. That's why the wording was as follows:
All persons born … in the United States, and subject to the jurisdiction thereof, are citizens.
How do we know the original intent was to apply to ex-slaves only? We have the word of the very man who wrote this particular clause. He was Michigan Senator Jacob Howard. As author Thomas West writes,
It appears, however, that the citizenship clause of the Fourteenth Amendment has long been misunderstood. Edward J. Erler points out that the author of the clause, Senator Jacob Howard, emphatically stated that those "subject to the jurisdiction" of the United States "will not, of course, include persons born in the United States who are foreigners" or "aliens." In other words, the Fourteenth Amendment was never intended to grant automatic citizenship to American-born children of foreigners, and the Supreme Court erred in 1898 when it ruled otherwise. (The Court never ruled that American-born children of illegal aliens are citizens, although that too is current federal policy.)
I realize that original intent doesn't mean a whole lot to many judges anymore, but if we are to be faithful to the amendment's original purpose, we must cease the practice of making citizens of anyone born on American soil. No new amendment is necessary. The one we have will do nicely.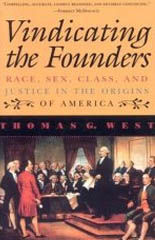 I do highly recommend West's book. It's called Vindicating the Founders, and it deals not only with what the Founding Fathers thought about immigration, but also race, women, property, voting, and welfare. I use it in my American Revolution course, and it proves to be quite enlightening for most students.
Meanwhile, back to the topic: so when you hear politicians claiming that children of immigrants, legal or illegal, are automatically citizens, realize they don't understand the Constitution they are supposedly upholding. And when you hear that something else must be done to reverse this policy—well, that might be necessary, given the times, but it shouldn't have to be. The original intent of the amendment is quite clear historically.