In the nearly two years that I've written this daily blog, I've never, to the best of my recollection (how's that for a lawyerly term that gets me off the hook if I'm wrong?), advertised for books I've authored. Today, though, I would beg your indulgence, since I've just had a new edition of one of my books come off the presses.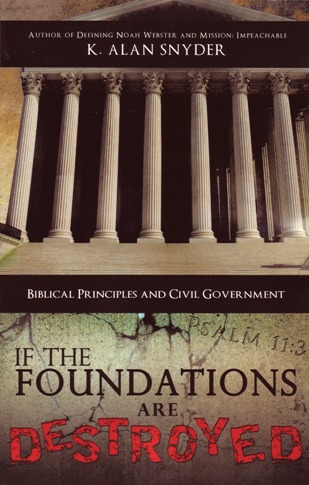 I first wrote If the Foundations Are Destroyed in 1994. This is now the fourth edition of it, complete with a new cover. Why might you want it? The subtitle, Biblical Principles and Civil Government, tells you what it's all about. I go through what I consider to be Biblical principles and how they apply to government. These form the basis of all my analyses of current government policies. So if you are a regular reader of this blog, this book will provide a window into why I believe as I do.
I have excerpted some of these concepts on the blog already as an overview. If you are interested in a preview, just click on the "Biblical Principles" category in the right sidebar. To learn more about the book and to order it, go to:
https://ponderingprinciples.com/books/itfad/.
While I'm at it, let me talk briefly about the other two books I've written.
I did my doctoral dissertation on Noah Webster. While writing it, I had in mind that I wanted to make it into a publishable book. That's not always easy with a doctoral dissertation, but I made every effort to ensure the writing style was accessible to a general audience as well as scholars. I hope I succeeded.
Webster was the schoolmaster to early America. His speller and dictionary could be found in nearly all American homes. The subtitle, A Spiritual Biography, lets you know that my goal in this book was to chart the course of Webster's thinking and worldview. At age 50, he experienced a conversion to orthodox Christian faith. How did that affect his scholarly work? The book compares the pre-conversion Webster with the post-conversion man, while offering along the way an accounting of his contributions to American life and culture. To find out more and order this book go to:
https://ponderingprinciples.com/books/webster/.
In 2001, I completed a study of the Clinton impeachment. My approach was different than any of the other books on the impeachment written at that time. I wrote it from the perspective of the thirteen congressmen—they were called House Managers—who went to the Senate to argue for Clinton's removal from office. I personally interviewed all thirteen of the Managers in their Capitol Hill offices; this book provides their story on why they thought it was essential to go forward with these impeachment proceedings in spite of public opposition. It's a study in character and the significance of the rule of law in society.
At the time of its publication, it was a main selection for the Conservative Book Club. Well-known author and editor of World magazine, Marvin Olasky, wrote the foreword for me. This is the only one of my books that is currently out of print (which I hope can be changed someday), but it is still available for those who are interested. For one of the limited number of new copies that still exist, you can order from this page:
https://ponderingprinciples.com/books/misimp/.
If you don't mind getting a used copy, check out Amazon.
I don't offer these with any expectation of becoming fabulously wealthy. My primary concern is to disseminate valuable information. I've promoted books by a number of authors over the past two years. I just wanted to make sure you are aware of mine as well. I hope some of you decide to add one or more of these to your library.