Last week, Secretary of State Hillary Clinton made some news. In an interview with Ecuadorean television, she informed the world that the Justice Department was planning to take Arizona to court over its illegal immigration bill.
Let's look at this development from a couple of different angles. First is the appropriateness of the Secretary of State being the bearer of this news. Her job is international affairs, not domestic. What does this mean? One of two things, either one not good. Either she spoke out of turn, which shows an administration in some state of disarray, or she was tasked deliberately to be the point person on this, which shows an administration in some state of disarray. Wait a minute—the two are the same, aren't they?
Of course Attorney General Eric Holder is the one who should have been given the task. He's the one responsible for deciding what types of things should be subject to federal prosecution. His track record is interesting: thugs standing outside a polling place in Philadelphia intimidating voters did not deserve prosecution, in his view; Arizona's attempt to bring illegal immigration under control does.
Governor Jan Brewer of Arizona never was told about this. In fact, as of today, it's still not official—Secretary Clinton's announcement was a trifle premature (unless it was meant as a trial balloon to see how it goes over in public opinion). Brewer has said Arizona will fight this in the federal courts and win. She's standing tall.
Politically, what does the administration have to gain by pushing for this? A majority of American citizens are in agreement with what Arizona has done. One commentator speculated that since President Obama's not going to win over those voters anyway, this lawsuit will be a way to galvanize his base going into the November elections. That may be true, but how telling is that as to the nature of our politics at this time?
The last time I checked, illegal immigration was . . . well . . . illegal. The law that makes it so is from the federal government, not Arizona.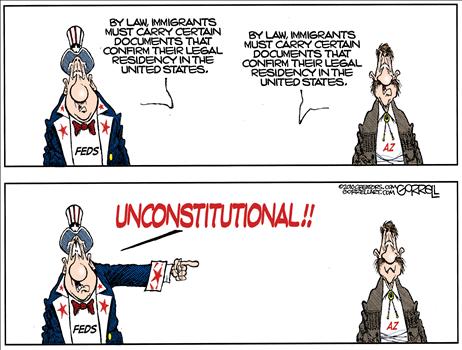 Arizona has done nothing more than try to enforce what is already federal law, and for that it is being prosecuted? Take note: this is the nature of the administration currently running our government.