Earlier this week, the Obama administration came out with its Nuclear Posture Review. It included new restrictions on when nuclear weapons would be used and focused on Obama's desire to rid the world of all nuclear weapons. Some people are saying it is Reaganesque, since that president also sought a nuclear-free world. There are differences, which I'll come back to later.
National Review asked a number of defense experts to comment on this new policy. Since they know far more about defense than I do, I would like to offer some brief excerpts from their commentary.
James Carafano of the Heritage Foundation notes:
The president lists five priorities in the NPR. Defending the U.S. isn't one of them.

You'd think it would be job Number One. That's why we invented nukes. Instead, the Review is largely a political document for trumpeting the president's "road to zero," a vision that will leave the U.S. with a smaller, less reliable, less credible nuclear force — making the world a more dangerous place.
Brian Kennedy, President of the Claremont Institute, had this to say:
The Nuclear Posture Review has just been released. Would that it had not. One does not have to read too far into it to see the amazing capacity human beings have for self-deception.

There is much in it that simply re-articulates the American Left's antipathy to our strategic nuclear arsenal, the weapons system that has checked the aggression of totalitarian states against the free world for six decades. This was to be expected. More striking is the transparent naïveté contained within the president's "vision" of a world without nuclear weapons and its bold and bizarre assertion that Russia is not our enemy. Much as we would hope otherwise, the Russians continue to build ever more advanced ballistic nuclear missiles, supply Iran with the technology and knowhow to develop such weapons for use against the United States and Israel, and, with the Communist Chinese, seek to marginalize the United States and its allies.
President of the Foundation for the Defense of Democracies, Clifford May, is trying to figure out if he heard correctly:
Let me see if I have this straight: Iran is developing nuclear weapons and threatening to use them and/or share them with terrorists. In response, President Obama has renounced the development of any new nuclear weapons by the U.S. and pledged that America will not deploy nuclear weapons against non-nuclear countries — not even in retaliation for a biological or chemical attack, assuming, of course, that said attacker is, at the time of said attack, in compliance with its nonproliferation obligations under international treaties.

Well, if that's not worth a second Nobel Peace Prize, what would be?
I referred earlier to the comparison some have made between the Reagan and Obama approach. It is true that Ronald Reagan dreamed of a world without nuclear weapons. Yet there was one caveat.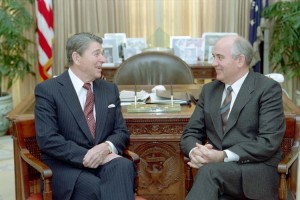 When Reagan met with Gorbachev and sought to reduce nuclear weapons, he always quoted an old Russian proverb, "Trust but verify." He didn't just take the word of a failing superpower built on a foundation of Marxism-Leninism and devoted to moral relativism. Any reduction had to be verified—we had to be able to inspect Russian facilities to see that they were following through on their promises.
What we have today is an adminstration that doesn't operate on the same worldview as Reagan. Instead, it believes that our nuclear arsenal is the reason for the problems; therefore we need to show the world how trustworthy we are. Meanwhile, Iran and other rogue states laugh at our simplistic views and continue moving the world closer to nuclear confrontation by their desire to obtain those weapons themselves.
For those who argue that it's only fair—why should the U.S. have nuclear weapons and not Iran—I would ask, "Are you of sound mind?" We have handled them responsibly for decades. Do you really believe Iran will do the same? There is no moral equivalence here.
If we really want to help bring stability in international relations, one cartoonist has a suggestion as to how that might occur.