The United States has been a bulwark of support for the beleaguered nation of Israel. President Harry Truman, back in 1948, stood firm in backing the creation of the nation. Ever since, the U.S. has helped Israel stave off the attacks of hostile regimes that surround it.
All that has now changed in the Obama administration.
President Obama is so tied to a policy of cuddling up to Islam that he is doing the same thing to Israel that he did in the past to his grandmother, "Rev." Wright, and so many others—figuratively throwing them "under the bus."
Don't be fooled by empty rhetoric.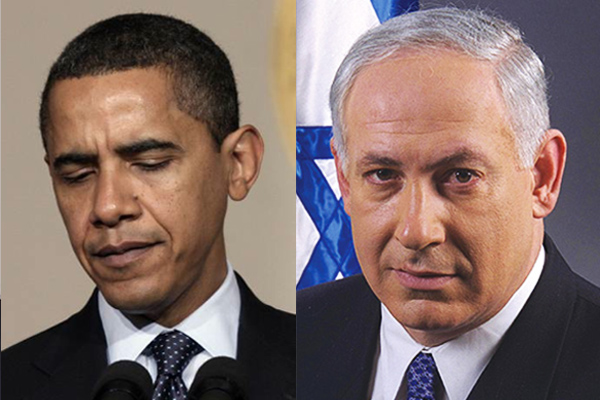 Last week, Israeli Prime Minister Benjamin Netanyahu came to Washington for talks. In the past, such talks have always been high level and Israeli leaders have been treated with respect. No such luck for Mr. Netanyahu this time.
Apparently, President Obama was angry over an announcement that the Israelis were planning to build more apartments in Jerusalem. Never mind it was in an area where there is little dispute over who has the territory. In Obama's mind, it was an affront to the Palestinians. I'll let a couple of other bloggers quoted in HotAir.com provide some commentary on this, since they have done a fine job of summarizing what took place.
For a head of state to visit the White House and not pose for photographers is rare. For a key ally to be left to his own devices while the President withdraws to have dinner in private was, until this week, unheard of…

After failing to extract a written promise of concessions on Jewish settlements, Mr. Obama walked out of his meeting with Mr. Netanyahu but invited him to stay at the White House, consult with advisors and "let me know if there is anything new", a US congressman who spoke to the Prime Minister said today.

"It was awful," the congressman said. One Israeli newspaper called the meeting "a hazing in stages", poisoned by such mistrust that the Israeli delegation eventually left rather than risk being eavesdropped on a White House phone line. Another said that the Prime Minister had received "the treatment reserved for the President of Equatorial Guinea"…

Obama has added more poison to a U.S.-Israeli relationship that already was at its lowest point in two decades. Tuesday night the White House refused to allow non-official photographers record the president's meeting with Netanyahu; no statement was issued afterward. Netanyahu is being treated as if he were an unsavory Third World dictator, needed for strategic reasons but conspicuously held at arms length. That is something the rest of the world will be quick to notice and respond to. Just like the Palestinians, European governments cannot be more friendly to an Israeli leader than the United States. Would Britain have expelled a senior Israeli diplomat Tuesday because of a flap over forged passports if there were no daylight between Obama and Netanyahu? Maybe not…
Here's the attitude I perceive, as reflected in this political cartoon: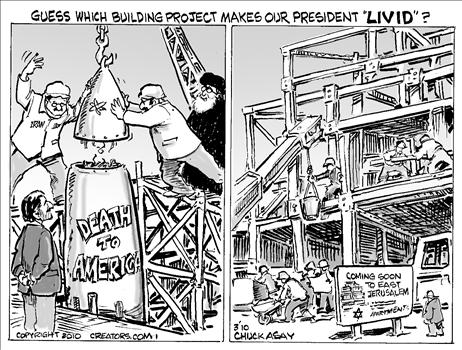 As an evangelical Christian, I have a natural affinity for Israel: it's the land of the Bible. I've visited once and hope to return to walk where Jesus walked. Yet even if that were not the case, I would be a stalwart supporter of a nation trying to survive as a friend of America in the midst of relentless enemies.
It would be nice if the American president felt the same.