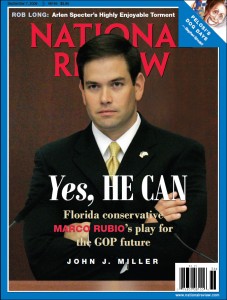 I went to a fundraiser last evening here in Lakeland, Florida, for senatorial candidate Marco Rubio. Rubio was there and spoke about his basic beliefs. He was articulate, principled, and devoted to constitutionalism.
He is someone I can support enthusiastically.
When National Review put him on its cover many months ago, he was behind Florida governor Charlie Crist by about 40 points. Today, he is leading Crist by nearly that same margin.
This has been a turnaround that is stunning to political pros. What it shows, though, is that the conventional wisdom isn't always right.
Is Rubio a symbol of the new direction of the Republican party? We can't know for sure just yet—not until we see how many others of his brand rise to the top.
But there is hope.