The word today is that this is THE week. Obamacare, according to Obama, will pass the Congress this time. Well, it might. It all depends on how many Blue Dog Democrats and those who say they oppose abortion cave under the pressure.
Meanwhile, polls continue to show a large majority of Americans oppose this bill (if indeed a bill exists—that's still a matter of debate). Yet Obama disregards the opposition. Why?
He interprets his 2008 election victory as a mandate to do whatever he wants. Never mind that many of those who voted for him now have buyer's remorse. Further, he is asking his own party to go with him on this path, regardless of the consequences to Democrats in the upcoming congressional elections.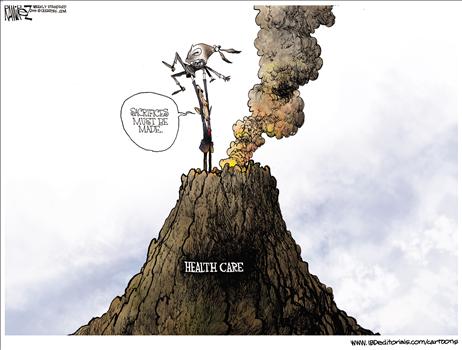 Is this megalomania? Is it the supreme example of arrogance? Does he really want to go over this precipice? It would appear so.
In the midst of all this, I find it encouraging that my old home state of Virginia has taken a stand, saying that it will not accept the imposition of healthcare on the state, since that is not a power given to the federal government in the Constitution.
If Obamacare does pass, this sets up a terrific court case. Can a state, relying on the original intent of the Constitution, reverse the advances of a federal government out of control? It may depend on the court in which the case is heard. It would probably go all the way to the Supreme Court where there's an opportunity to declare Obamacare unconstitutional.
Yet I'm praying it won't go that far. I'm hoping it will be stopped dead in its tracks again this week—for the sake of the future of this nation.