Are you as tired as I am of thinking about this whole healthcare issue? Obama refuses to give up. I would admire someone standing by principles this strongly if only those principles were real principles based on Biblical bases. Unfortunately, his are not.
The nice thing is that every poll says a majority of Americans either reject the Obama approach or have serious concerns about it. Of course, that's been true for months.
How can he continue to demand something when most people say no? Well, perhaps his view of the American people is a little different.
Yet he presses on. He's in campaign mode again (as if he's ever left it). He's pushing hard, making promises to Democrats who are on the fence (like nominating one's brother to a judgeship).
He seems to think that his arguments are rock solid, and that there is no alternative. A couple weeks ago, we went through the healthcare pretend-summit. I said before it happened that it was just a show, and that Obama didn't really care what Republicans had to offer. That viewpoint has been confirmed. Everyone else should just keep quiet now and allow his plans to materialize.
A relevant fact, though, is that a kind of mini-Obamacare has already been tried in Massachusetts. It is currently foundering. Why would we want to emulate it?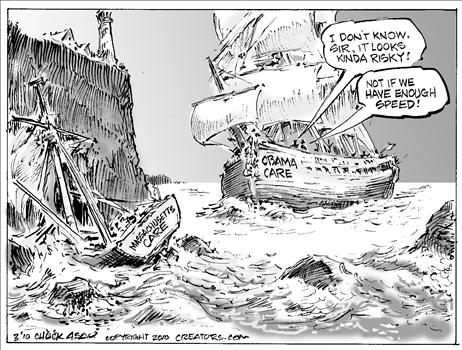 The problem: it won't simply be Obamacare that wrecks on the shore; it will be 1/6 of the nation's economy.