Sen. Ben Nelson of Nebraska has joined Sen. Mary Landrieu as the latest examples of how a senator can be bought. Landrieu, as noted in a previous post, received $300 million of goodies for her home state of Louisiana in exchange for a vote to allow debate to begin on the healthcare bill. Some pundits referred to it as "The Louisiana Purchase."
Sen. Nelson has rivaled his colleague in the art of bringing home a good bit of spoiled bacon for his state, but he has mixed in an extra helping of hypocrisy. Nelson made a big deal of opposing the proposed Senate bill because of its taxpayer funding of abortion. Then, in exchange for his vote to end debate, he received an unheard-of benefit for Nebraska in which the other 49 states will cover the costs of added Medicaid. No other state has this particular bargain.
What did Nelson get on the abortion issue? Virtually nothing. The bill will be modified to allow states to "opt out" of abortion funding if they choose. This means that the defualt position will be to fund abortion; even if a state opts out, its share of taxes will go for abortions in other states. In effect, Nelson sold out. The Biblical phrase is gaining the world in exchange for one's soul.
I know politics can be a sleazy business, but this is so blatant that it's almost breathtaking. Sleep well, senator; if both houses of Congress can now agree on a reconciliation bill, and the "opt out" provision wins, you will have traded your integrity and the lives of innocent children for financial gain.
What will this mean for your political future, and that of many of your ideological comrades? There may be a backlash.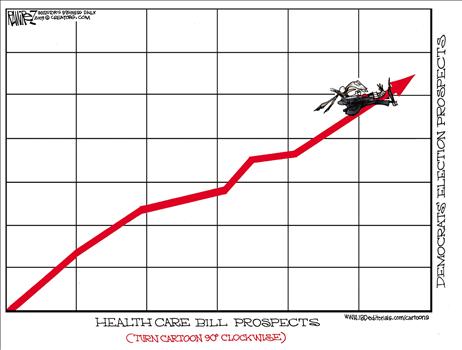 If that happens, it will be richly deserved. Here's another vivid picture of possible consequences.
The 2010 congressional elections are not that far away. If the Democrats continue to push for an overhaul that 55-60% of the American voters oppose, they may find their hold on power to be short. Of course, that's all predicated on the American voters' ability to remember what has happened and not sell their souls as well. There's a lot to pray about over the next months.