I'd like to take this space on the blog today to praise the university where I work. Last night I participated on a panel dealing with the current economic crisis. Four professors shared from their areas of expertise, which allowed students to see this crisis from different angles. Yet the message was pretty unified.
This economic forum was sponsored by the Department of Historical, Legal, and Leadership Studies, which I have the privilege to chair. The room where it was held was the largest classroom on campus, holding approximately 130 students. There were few empty seats.
The unifying factor was, of course, our Christian faith. I appreciate a university where we can be open about what we believe and apply our faith to our academic expertise. Relatively speaking, there are few universities that allow this kind of openness for Christian foundations in subject areas such as history and economics.
Commercial time: if you or anyone you know is looking for a Christian university where Biblical faith is fundamental to its operation, you might want to check out Southeastern University in Lakeland, Florida. I have found a home here, and I would welcome the chance to help educate young people who are earnestly seeking to understand how their Christianity is applicable to all areas of life.
My department houses degrees in history, public policy, criminal justice, leadership, and also a pre-law track for those desiring to attend law school. I am excited about the future of this institution, and what its graduates can do for the kingdom of God in this world.
Okay—end of commercial.
Meanwhile, back at the forum, I think the following expresses what all the panelists believe about the current direction of the economy.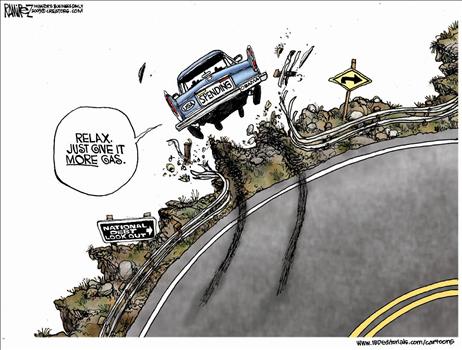 A poor solution, don't you think?