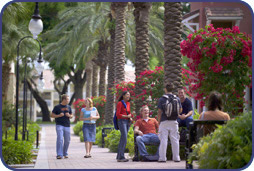 Over the weekend, Southeastern University's Board of Regents officially approved the new Department of Historical, Legal, and Leadership Studies, for which I will serve as chair. The Board also approved the new Public Policy degree, which will begin in 2010 (although classes for the degree start this upcoming academic year).
On Monday, the faculty of the university confirmed the new Public Policy degree, and another faculty member has been hired to further the goals of the program.
I am grateful to the Lord for how this all came about. It has been a joy to help develop this new degree because I see it as an opportunity to educate and train students for service in the realm of public policy and government.
Spread the word: Southeastern is now seeking students who have a heart to follow the Lord's guidance in this very important realm of our society. If you know of anyone who is interested, please have them contact me for more information.