After this last election, is it possible to still be thankful? Do we really have blessings? Actually, we have more than we realize. Personally, I have:
A God who continues to work in my life and through it, who loves unconditionally even while He demands that I learn a deeper concept of obedience.
A wife who has stood by me for 36 years, and for whom I have a greater love now than at any time in our marriage–it has matured, even as I have.
A daughter and a son who are married and moving on in the life God has given them. This week, my daughter's family is with us. What a joy to have three grandsons with whom I can spend time, get to know better, and hopefully have some impact on their lives as well.
A job that is not simply a job, but rather a ministry, where I have the liberty to teach history relying on Biblical principles for analysis.
Material blessings in a way that we have not had for most of our lives. Yes, such things can change, but I am learning, over time, that the Lord is our real security anyway.
As a nation, in spite of the problems and the philosophy of the incoming administration, we are not a spent force. The promise remains: if My people, who are called by My name, will seek My face, repent, etc. . . . Restoration can occur, and if not, He will never leave us or forsake us.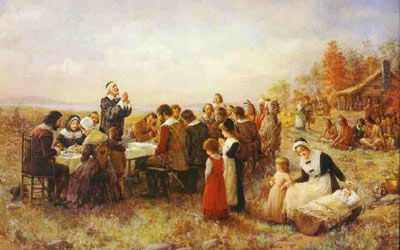 When the Pilgrims held their Thanksgiving celebration (not to give thanks to the Indians, by the way), they had suffered terribly along the way. Back in England they had been persecuted, in Holland they really didn't fit into the culture and their children were being lured away from the faith, and in the New World half of them had died the first winter. Yet they had persevered and their faith remained strong. They continued to believe that God would honor their faithfulness.
That is still true. If we are faithful, God's blessings will follow. We never have to wonder about His faithfulness; the real issue is ours. He wants to bless. Will we allow Him to do so?