My wife, Jan, and I attended the Sarah Palin rally held near our home in Lakeland this past Saturday. We also attended one in nearby Kissimmee the previous weekend. Normally, I don't get too excited about going to political rallies. I'm one of those people who prefers to stay at home and avoid large crowds. But I am glad I went to these two events.
First, it was an encouragement to see so many people with the same concerns and desires that I have with respect to the upcoming election. My spirit, I have to admit, was lifted.
Second, the Lord used these events to help me concentrate even more on His purposes. What is He attempting to do with this nation? How does Sarah Palin fit into His plans? (The following pictures are from the Lakeland rally, courtesy of one of my students.)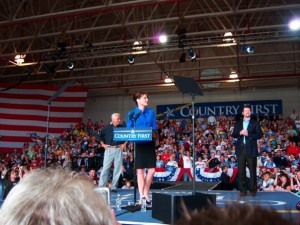 While I don't want to let emotions rule, it was truly an emotional time when she came out to speak. There is a love for her that flows from the people in a way I have not experienced since Ronald Reagan.
Now, rallies such as these are never times for candidates to say new things. This was her second of the day, to be followed, I understand, by three more. You can't come up with new messages each time. Yet what amazes me is how fresh she seemed, speaking with real conviction on each point.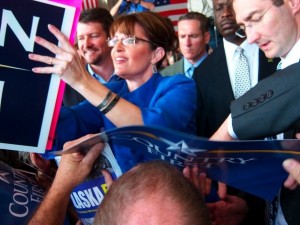 When she finished speaking, she stayed around for quite some time, talking with people and signing autographs. Yes, I know this is typical for all politicians. But in my spirit I sense that she is the real thing–the genuine Christian who is trying to do God's will.
As I said more than two months ago when she was first chosen by McCain, she needs our prayers. And we need to pray that no matter what happens in this election, that God will use her to help turn this nation around. While we're at it, we should pray for the Lord to raise up more like her. The tide can be turned if God's people humble themselves, pray, and obey His Word.