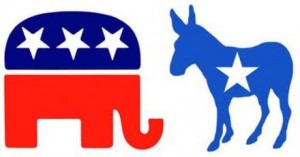 Are Christians supposed to align themselves with political parties? Many say that the only real Christian stance is to be unaffiliated with a party because that would be tying God to a human organization that is oftentimes corrupt. The fear is that becoming identified with a particular party will besmirch the reputation of the faith when that party does something wrong.
I understand the sentiment. I want to be known as a Christian first, an American second, and a member of a political party third. Yet, if we are to be salt and light, how can we remain aloof when there is so much at stake in our society?
I look at the platforms for the parties and I must support the one that is closest to Biblical principles. Currently, I am faculty sponsor for College Republicans. I spoke last week at the local Republican Club. The Republican platform is pro-life and generally more amenable to the morality that I wish to see prevailing in our country.
Yet I do have a former student who is now working for a Democrat at the state level. She says he is very conservative, so she can do so. I have a friend who is running for a state senate position as a Democrat. He is pro-life, pro-second amendment, and says he chose to run as a Democrat because the Republicans in his district were not open to him.
I don't want to say that either of these friends has chosen wrongly. How will the Democratic party ever change unless people work within it to make changes? Yet I also know that the national Democratic party is solidly pro-abortion (euphemistically called pro-choice), generally in favor of homosexual marriages, and promotes economic policies that I consider to be contrary to Biblical principles. If I support those who are part of this overall platform, am I doing wrong, even though they personally are in agreement with me?
I offer this as a genuine question. I welcome your comments.